Nettles Pasta.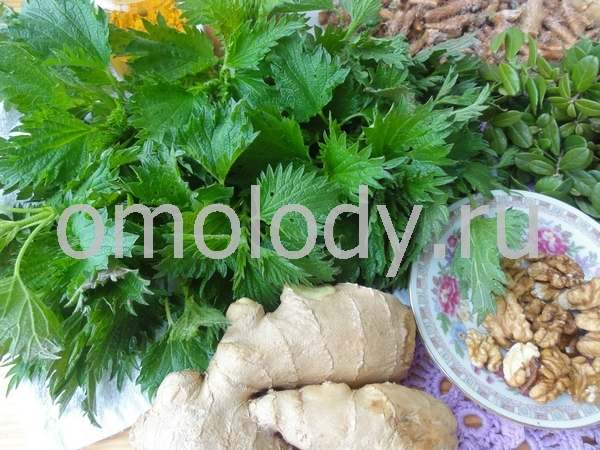 Description: It is important to chop the cooked nettles very well, chopped nettles puree in a blender or food processor.
Ingredients:
✔ 300 g all-purpose flour, about 2 heaping cups
✔ 120 g blanched nettles or spinach, about a cup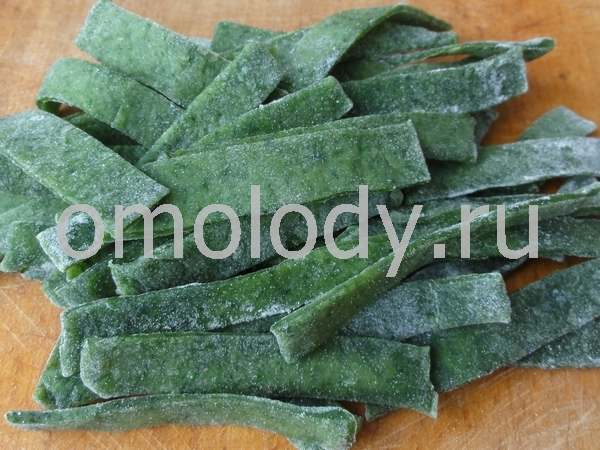 Preparation:
Remove from nettles any thick stems. Get a huge pot of water boiling and add a salt, put nettles into the boiling water. Stir around and boil nettles for 1 to 3 minutes, depending on how old they are. Put nettles in a colander to strain.
Chop the nettles roughly. Puree the nettles in a blender. When you are done, add a little water into the bowl of the blender to help clean it out, but save the water — you might need this "nettle water" if your dough is not moist enough.

Put the flour in a large bowl and make a well in the center. Add the nettle puree and gradually incorporate it into the flour until you get a shaggy mass. If it's too stiff add a little of the nettle water. Start folding the dough over itself until it comes together, then begin kneading.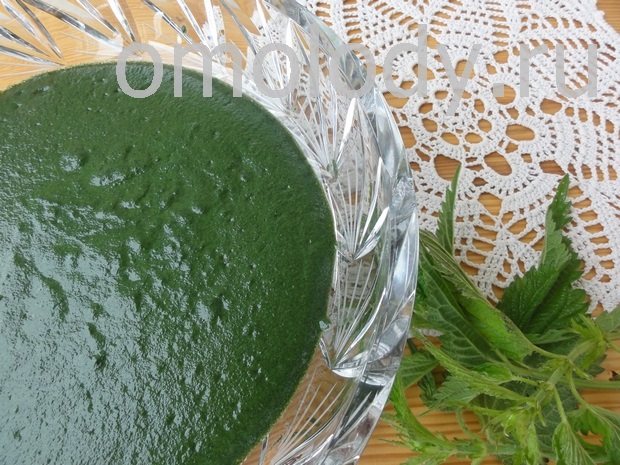 Cover the dough with a thin film of olive oil and wrap in plastic. Let it rest for an hour. Cut off a piece of the dough and roll it out, make the pasta.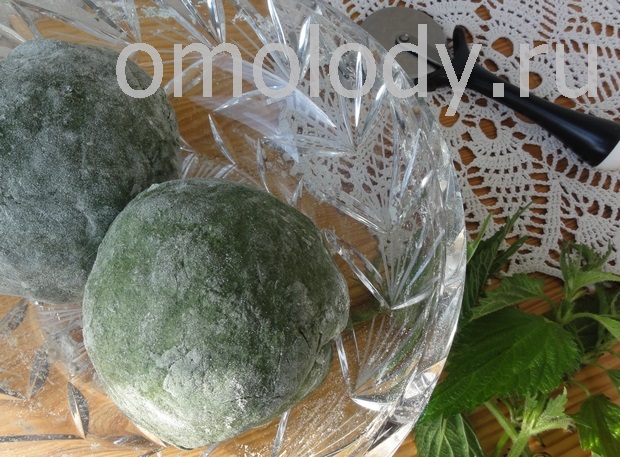 To hand cut your noodles, if need, dust with a little flour. Lay the pasta on the board with some flour dusted on them. Repeat with the rest of the dough. After every little batch, pick up the previous one that had been drying and give it a slight twist, making it into a loose nest. This makes for easier storage. The strettine will sit like this for up to a day. Boil in lots of salty water until they float, and then for another minute or two. Serve at once.
Nettles Pasta with feta and almond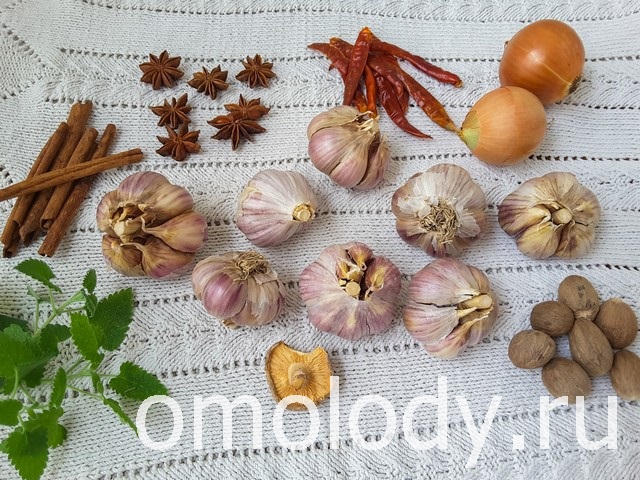 ✔ 6 ounces stinging nettles
✔ 8 ounces small dried pasta (orecchiette, orzo, etc)
✔ extra virgin olive oil
✔ 1 large clove garlic, minced
✔ a big handful of toasted almond slices
✔ 3 tablespoons toasted sesame seeds
✔ a handful of onion sprouts
✔ feta cheese, crumbled - as much or as little as you like
✔ fine grain sea salt

Bring a large pot of water to a boil. Salt well, as you would for pasta water, and add the nettles straight from the bag so as not to get stung (or use gloves to handle them). Boil until the nettles wilt, just 20 seconds or so, then use a slotted spoon to remove the nettles from the pot. Run under cold water, drain well, then strip the leaves from any big stems. Chop the leaves into a paste.

In the meantime, bring the nettle water back to a boil, add the pasta, and boil until just tender. Reserve a cup of the nettle water, and drain the pasta.

Place the pasta pot back on the burner over medium-high heat, adding 1/2 cup / 120 ml of the reserved pasta water, a splash of olive oil, and the chopped garlic. Bring to a simmer, the add the pasta and chopped nettles. Add more pasta water if needed. Stir well, and add most of the almonds and sesame seeds. Taste and add more salt if needed. Remove from heat and stir in most of the onion sprouts before turning out into a bowl. Serve family-style topped with feta, the remaining almonds, sesame seeds, and sprouts, drizzled with olive oil.

A quick blanch in boiling water will neutralize their stinging power.

Making gnudi is fun. First you press out all the liquid from one tub of ricotta and the nettles, then whir them in a food processor with either two duck egg yolks or three chicken yolks. Plop the goo into a mixing bowl and add salt, smoked garlic powder if you wish, and flour as needed to form a light dough. A cup and a half of flour should more or less suffice. (tip- the amount of flour needed in most recipes will vary with your humidity and altitude. To form the gnudi roll a teaspoon of dough between your palms into a little oval. Place on a parchment-lined sheetpan and repeat with remaining dough. Cover while waiting for the water to boil and finishing the duck and sauce. Cook gnudi as you would gnocchi- by dropping into salted boiling water and removing with a slotted spoon once they float to the top.
Сooking and recipes