Beer pancakes.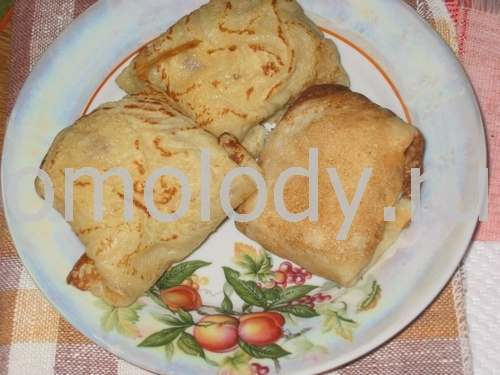 Ingredients:

✔ 3 cup flour
✔ 1 bottle (1 pint) beer
✔ 2 eggs
✔ 1 tbsp sour cream
✔ 200 g (8 oz) pot cheese (fat)
✔ 1 tbsp sugar
✔ 1/2 cup milk
✔ salt and bread crumbs to taste.

Make a batter.

1. Stir carefully eggs yolks with the sour cream, add a salt, sugar, pour half of the beer.

2. Whip the mixture, add flour, stir and pour remained beer, add whipped egg whites. Mix carefully. The batter is ready.

3. Fry small pancakes on the overheated greased pan:
Pour 1 little rounds of batter on the pan. Cook until light gold. When one side is cooked, turn the pancake over and cook the other side. Continue with this process until all of the batter has been made into pancakes.

Serve hot with meat, or cottage cheese, or jam:

4. Make pancake rolls with meat (or another filling) inside pancake:

Place the filling on each pancake and roll it. Dip every pancake in beaten egg + milk mixture, coat with bread crumbs, then fry on the pan until brown (again).